Afternoon tea for the elderly arranged by our Ladies on a Friday group.
The first evening's celebration. What a joy to see so many young people celebrating their love for Jesus!!
Our Yobs group away at Soul Survivor….and it's not raining!!!
Thank you to all who contributed to our Post JustOne Celebration.
Look at the nations and watch – and be utterly amazed. For I am going to do something in your days that you would not believe, even if you were told.
Habakkuk 1 v5
A huge thank you to everyone who made the annual Church BBQ such a success and especially Miranda who seems to be utterly tireless!!
What a fantastic feast!! We all had a BRILLIANT time!!
Great fun at Messy church this month!
If you couldn't attend the Emirates, here is J. John's talk.
What a fantastic day today at the Emirates praising God and seeing lives change!!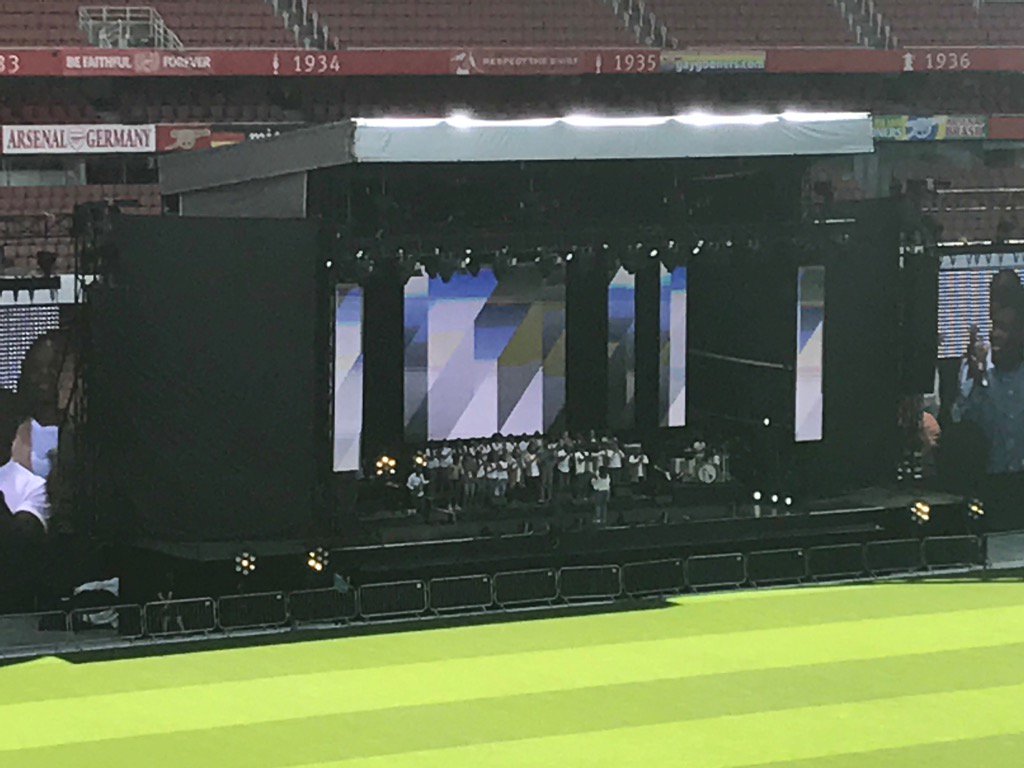 A brilliant service today led by our new vicar, Kevin and the Junior Church. Kevin also brought a friend along! A warm welcome to Kevin and his family as well as Clarence the chimpanzee!!
What a wonderful celebration as we welcome Reverend Kevin Lewis and his family to our parish. Here are some pictures to bring the evening alive.
Getting ready for the action!
The service of  collation and induction
The following celebration!
Great fun at the summer fair AND we raised over £4000 for local charities. Thank you to everyone who helped especially Chris and Lisa!
Last service for @mrssarahsimpson and @mrcmsimpson. We send them off with our love, prayers and thanks.
We joined in the celebrations today for Margery and Alan who are celebrating their 90th birthdays!!
Thank you for your talk today about Pentecost Cheryl.
Spot the newly painted vicarage door! Not long now until we have a new vicar joining us!
Man Alive took place this week. Go to the dedicated page Man Alive for more details.
Well done to all concerned with organising the International Meal. It was a great success  and raised over £500 for the families of the Refugee and Migrant Network  who will be going on an outing later this year.
Well done to all those who took part in "Beating the Bounds" yesterday. Thank you for organising it Jason.
Sharing Palm Sunday with our Catholic brothers and sisters and walking back to The Good Shepherd.
After our APCM we have a new Church warden and new members for the PCC. Congratulations to you all!
And our new vicar is …….
Reverend Kevin Lewis!!
We look forward to welcoming Kevin, Fran and Kieran into our Church family
To find out more about him, go to @theblogofkevin on Twitter or go to our Podcast page and hear him preach.
What fun we had at Wednesday Club this week. Hand drumming with Gary Mason Charity.
Junior Church learnt how much God loves each one of us today!
Great fun at Messy Church yesterday building towers and walls!
Our very own "Tough Guy" Well done Jason!!
The story of the wise and foolish man acted out at Tiny Tots!!
Wednesday Club had a great evening celebrating their favourite tunes in a "Desert Island Disc" special. Can you guess which tune Margery and Alan chose from their rather fetching outfits?!!
A huge "thank you" to Andrew Hawkins who came along this morning to share the JustOne vision inspiring us to think who we can take with us to hear the Good News at the Emirates Stadium on 8th July 2017
What a lovely surprise at Tiny Tots today!! Mo the owl visited to accept a cheque for the charity Momentum which helps families with children who have cancer or other life limiting conditions. Mo even danced with us. click IMG_1019 to see!
Great to see Steve Cooper @Cry_in_the_Dark  talking to us today and updating us on the work in Romania. Just £2 a month can help those who live in absolute poverty as they care for children with terminal illness.
What a wonderful way to celebrate Jesus' birthday! Well done to all our actors at our 2 Nativity services!
What a wonderful time enjoying a Christmas tea with together with Contact the Elderly!
Thank you to everyone who brought toys today for children less fortunate than themselves.
Great fun at Messy Church as we thought of the pearl of great price!
Congratulations to everyone who helped with the running of our Charity Christmas Fair! What a wonderful event and we raised over £8000 for local charities!
Yesterday's glorious morning at Nonsuch has just been made even better because the results are in, and the Good Shepherd Runners came first!
It looks like it was really close as well so everybody's points yesterday were crucial – thank you to everybody for taking part and for support (yesterday and for all other runs of course)
The winners' cup is currently on display in the Church of the Good Shepherd trophy cabinet (well office window).
Hopefully will have some more photos soon, and of course match report to follow.
Thank you to Patrick Regan and his team for an inspiring evening talking about when faith gets shaken.
Thank you to all involved with Sutton Community Works for telling us all about the ongoing activities in Sutton. We thank the Lord for your service!
To find out more click here
We remembered those we love today at a moving memorial service. Thank you Peter.
Today we celebrated Harvest. How blessed we are!  A special "Thank You"to Carshalton Beeches Bakery who donated our delicious Harvest loaf.
Well done to our flower team as well. The flowers looked wonderful! Thank you to everyone who helped provide the tea after the 2nd service.
What a wonderful service celebrating 20 years of Sutton Schools Work and how inspiring to hear about the work going on in our local schools!!
We all met together to discuss our Parish Profile as we seek to find out what sort of Church God wants us to be.
This is the sort of vicar our children would like us to have!
Well done Kevin!!
For those who supported/ sponsored me for #ManvsMountain, I did it! Definitely a brutal experience!
Creating a cairn in church today. We are all different but all loved by God.
Congratulations to Jason as well for winning a trophy as a member of the Good Shepherd Runners
Thank you Kevin for leading our worship today and for bringing Tommy along too! Not so sure about your cooking skills though!
We will be thinking of you as you undertake the Snowdon Challenge next Sunday in aid of Sutton Schoolswork  If you would like to sponsor Kevin please go to https://mydonate.bt.com/fundraisers/kevinssnowdonchallenge
Wednesday Club on their annual outing. What a wonderful garden!! And well done, Peter you have got Diane on camera. A rare feat!!
Our YOBS group having great fun and fellowship at Soul Survivor. A huge thank you to all the leaders!
Sunday's service was all about how God protects us. We all prayed for those close to us and added their names to a giant shield.
Over 120 people joined in the Church annual BBQ on a beautiful sunny day. Well done to all the organisers!!
Thank you to all those who helped to look after everyone involved in the Sutton School Christian Worker Trust's recent initiative.
 What a wonderful service led by members of our Junior Church!!
Sutton Schoolswork News
Well done to Cat who cut off her beautiful hair to raise money for charity. So far the fund stands at £1,700 but you can still donate by going on the Sutton Schoolswork site by clicking
here
Our Midsummer Fair was great fun with stalls for all ages……and it didn't rain!!! Thank You Lord!
We will find out how much we raised for local charities tomorrow. watch this space!
Our 1000th Parkrun was notched up this weekend which equates to a total of 5,000 km. To put this into context, this is further than 5 Lands End to John o Groats or Carshalton Beeches to the North Pole!!
Well done on a great team effort and congratulations to Toks Kadiri for being the finisher of the 1000th Parkrun for the Good Shepherd Runners
Spring on the Green
Spring on the Green was a great success and everyone thoroughly enjoyed themselves. Thanks especially to Lisa for making this happen.
What a wonderful evening at church celebrating the confirmation of 8 members of our congregation along with 2 from St. Helier parish and 1 from St. Patrick's, Wallington by bishop Jonathan. It was a real privilege!
The Somme Expedition
Auction of promises trip to the Somme was a great success! Well done to everybody who got up at about 4 am in the morning and thanks to Miriam and John for organising it!
Congratulations to Janet Hill who has just won Sutton's Community Spirit award. Thanks for all you do for all of us , Janet!