Kevin and 'Clarence' talk about meeting with God – can be an 'in tents' relationship!
Thank you to everyone involved with the Christmas tea party for the elderly. Everyone had a brilliant time!!
Well done to everyone involved in the Christmas Charity Fair. What a great event!!
We remembered our loved ones today at a special memorial service by lighting a candle of remembrance.
Shoe boxes ready to be dispatched to a child in need for Christmas.
We all thought of those who have inspired us or still inspire us in the Christian faith and wrote their names on paper airplanes. we then launched them during the service. May we inspire others!
Messy Church portrayal of Jesus asleep in a storm.
Man Alive gathering on the"comfy sofas" to discuss faith issues.
Great to be at Tilgate Park on a picnic with the Sutton Refugee & Migrant Network. Despite the lack of sun!
Thank you! to the Church of the Good Shepherd Friday Morning Ladies' Group from the Refugee and Migrant Network ,Sutton
The RMNS families had a great time on Saturday and it was good to see the two groups talking, walking, playing and eating together. Tilgate Park was the perfect venue and we are so grateful for your gift of fun and friendship!
We hope we can continue our partnership with you and invite you to "drop-in" on a Wednesday morning at Trinity Church Sutton 10-12.00 and perhaps a representative can come to our AGM on Wednesday October 18th at midday in Trinity Hall.
Olwen     (Olwen M Edwards Secretary)
Breaking News! We raised almost £9,000 for our Harvest Appeal raising money for Jigsaw4u, Mustard Seed Appeal and Water Aid. Thank you everyone!
What a wonderful Harvest service today! Charlotte and Ethan were baptised followed by a visit from Billy the fish. We then had a delicious harvest lunch. Thank you to all who prepared it for us!!
Great fun at Liz's house this afternoon raising money for Tyumi Valley School.
A huge thank you to Emily Moore who brought us up to date at our service this morning with everything happening at Cry in the Dark in Romania.
Our latest Tiny Tot was baptised on Sunday. A huge welcome to the church family, Xavier!!
Afternoon tea for the elderly arranged by our Ladies on a Friday group.
The first evening's celebration. What a joy to see so many young people celebrating their love for Jesus!!
Our Yobs group away at Soul Survivor….and it's not raining!!!
Thank you to all who contributed to our Post JustOne Celebration.
Look at the nations and watch – and be utterly amazed. For I am going to do something in your days that you would not believe, even if you were told.
Habakkuk 1 v5
A huge thank you to everyone who made the annual Church BBQ such a success and especially Miranda who seems to be utterly tireless!!
What a fantastic feast!! We all had a BRILLIANT time!!
Great fun at Messy church this month!
If you couldn't attend the Emirates, here is J. John's talk.
What a fantastic day today at the Emirates praising God and seeing lives change!!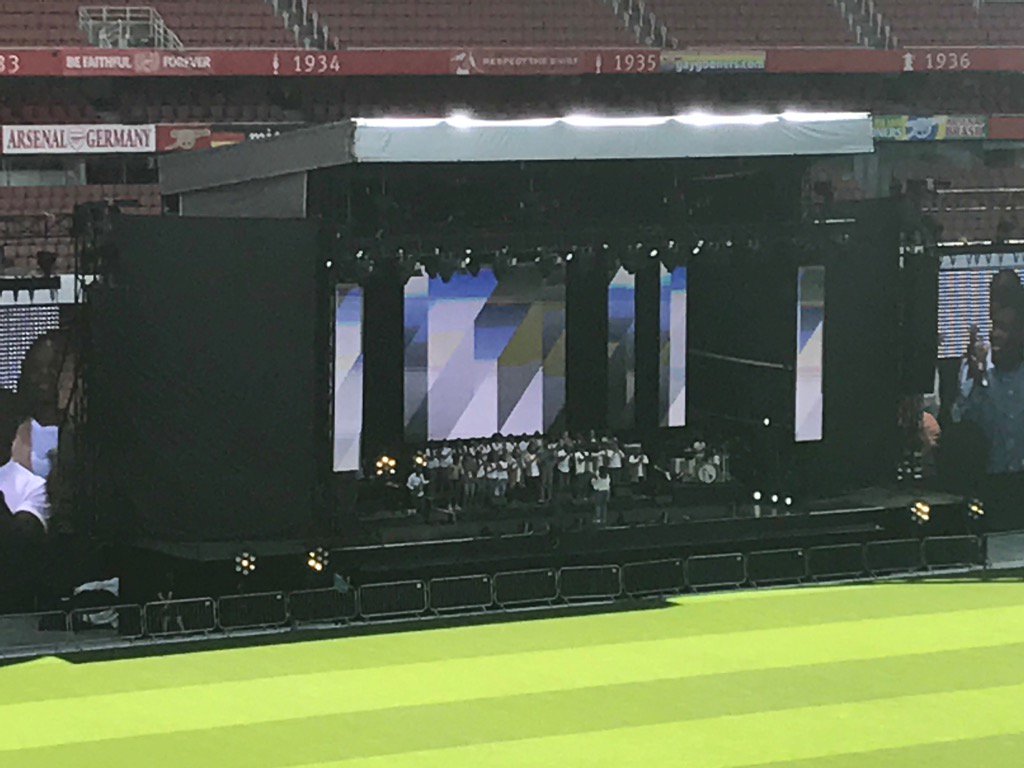 A brilliant service today led by our new vicar, Kevin and the Junior Church. Kevin also brought a friend along! A warm welcome to Kevin and his family as well as Clarence the chimpanzee!!
What a wonderful celebration as we welcome Reverend Kevin Lewis and his family to our parish. Here are some pictures to bring the evening alive.
Getting ready for the action!
The service of  collation and induction
The following celebration!
Great fun at the summer fair AND we raised over £4000 for local charities. Thank you to everyone who helped especially Chris and Lisa!
Last service for @mrssarahsimpson and @mrcmsimpson. We send them off with our love, prayers and thanks.
We joined in the celebrations today for Margery and Alan who are celebrating their 90th birthdays!!
Thank you for your talk today about Pentecost Cheryl.
Spot the newly painted vicarage door! Not long now until we have a new vicar joining us!
Man Alive took place this week. Go to the dedicated page Man Alive for more details.
Well done to all concerned with organising the International Meal. It was a great success  and raised over £500 for the families of the Refugee and Migrant Network  who will be going on an outing later this year.
Well done to all those who took part in "Beating the Bounds" yesterday. Thank you for organising it Jason.
Sharing Palm Sunday with our Catholic brothers and sisters and walking back to The Good Shepherd.
After our APCM we have a new Church warden and new members for the PCC. Congratulations to you all!
And our new vicar is …….
Reverend Kevin Lewis!!
We look forward to welcoming Kevin, Fran and Kieran into our Church family
To find out more about him, go to @theblogofkevin on Twitter or go to our Podcast page and hear him preach.
What fun we had at Wednesday Club this week. Hand drumming with Gary Mason Charity.
Junior Church learnt how much God loves each one of us today!
Great fun at Messy Church yesterday building towers and walls!
Our very own "Tough Guy" Well done Jason!!
The story of the wise and foolish man acted out at Tiny Tots!!
Wednesday Club had a great evening celebrating their favourite tunes in a "Desert Island Disc" special. Can you guess which tune Margery and Alan chose from their rather fetching outfits?!!
A huge "thank you" to Andrew Hawkins who came along this morning to share the JustOne vision inspiring us to think who we can take with us to hear the Good News at the Emirates Stadium on 8th July 2017
What a lovely surprise at Tiny Tots today!! Mo the owl visited to accept a cheque for the charity Momentum which helps families with children who have cancer or other life limiting conditions. Mo even danced with us. click IMG_1019 to see!
Great to see Steve Cooper @Cry_in_the_Dark  talking to us today and updating us on the work in Romania. Just £2 a month can help those who live in absolute poverty as they care for children with terminal illness.
What a wonderful way to celebrate Jesus' birthday! Well done to all our actors at our 2 Nativity services!
What a wonderful time enjoying a Christmas tea with together with Contact the Elderly!
Thank you to everyone who brought toys today for children less fortunate than themselves.
Great fun at Messy Church as we thought of the pearl of great price!
Congratulations to everyone who helped with the running of our Charity Christmas Fair! What a wonderful event and we raised over £8000 for local charities!